Parallel Solar Inverter XTHF Series

This is a multi functional off grid hybrid inverter,it combining functions of inverter,solar charger and battery charger to offer uninterruptible power support in portable size. Its comprehensive LCD display offers user-configurable and easy-accessible button operation such as battery charging current, AC/solar charger priority,and acceptable input voltage based on different applications.
Main Features:

1. Max. PV input 145Vdc with 80A MPPT Inbuilt;
2. Wide utility input range 90Vac-280Vac;
3. Stable 60A AC battery charger;
4. Intelligent functionality enables utility and solar input prioritization;

5. Parallel connections up to 9 units as 45KVA system.

Model
XTHF5KVA
RATED POWER
5000VA/5000W
INPUT

Voltage

240 VAC

Selectable Voltage Range

90-280 VAC 

Frequency Range

60 Hz 
OUTPUT

AC Voltage Regulation 

240 VAC 

士 

5% 

Surge Power

10000VA

Efficiency (Peak)

90%-93%

Transfer Time

20 ms 

Waveform

Pure sine wave

BATTERY

Battery Voltage

48 VDC

Floating Charge Voltage

54 VDC

Overcharge Protection

63 VDC

SOLAR CHARGER & AC CHARGER

Max. PV Array Open Circuit Voltage

500VDC

Max. PV Array Power

4000 

W

MPP Range ©operating Voltage

120-450VDC

Max. Solar Charge Current

80 A

Max. AC Charge Current

60 A

Max. Charge Current

80 A

PHYSICAL

Dimension. D x Wx H (mm

130x300x450 

Net Weight (kgs)

22kg

Communication Interface

USB/RS232

ENVIRONMENT

Humidity

5% 

to 

95% 

Operating Temperature

-10° C ~ 50° C

Storage Temperature

-15° C ~ 60° C
System Parallel Example: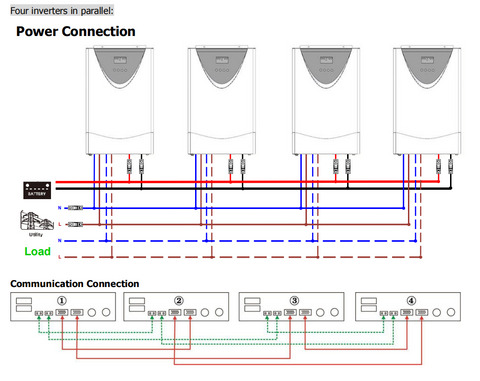 Three Phase Parallel Example: